I believe it is the second year anniversary at Beverly's Pink Saturday!!!!!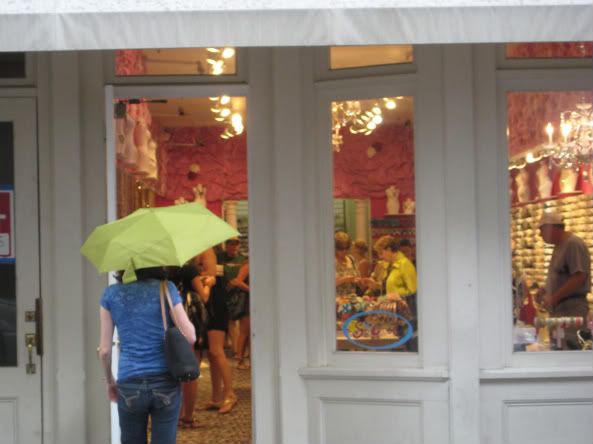 It is a special Pink Saturday at
Beverly's
this week. Since we are in the Charleston area on a brief vacation I decided to show touches of pink in the area. Below--cottage on Sullivan's Island.
I am Minkey, of course ,and I love the Shem Creek area--the trees are grand
I had time for a zip line ride in the backyard.
Beach fun with Zephir too---My excuse for showing these photos is my pink in my hat and necklace of course!
Pink skies on the Creek
Fort Sumter is behind us in the above picture--where the civil war began.
The College of Charleston has its own pinks.
The shutters above were more pink than this photo showed!
A sorority house below
Pink kniting shop above
Magnolias--a wonderful place to have lunch in Charleston--waiters in fancy clothes.....
Espresso for me and Zephir!
I loved this colorful pink in the shop above. Notice the contrast with the green umbrella--we hit a downpour and Nannykim had to RUN IN THE RAIN BAREFOOT ON KING STREET!! She got soaked, but us monkeys faired better in the back pack!
Just had to sneak another picture of us in here.
The house above is selling for 1,999,999 dollars!! Yup almost 2 million--this is not a cheap part of town!
Adios and a happy pink celebration at Beverly's