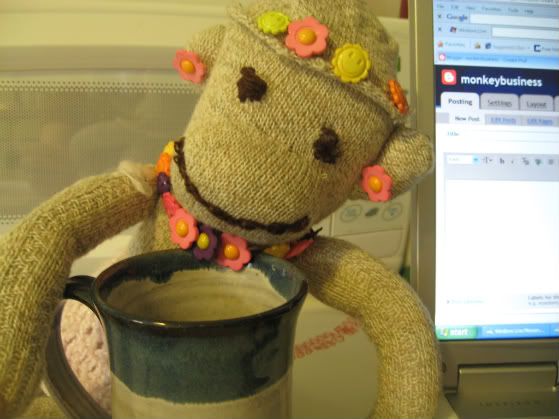 Pull up your coffee cups my dears!! It is pink SaturdayAt Beverly's --click on the blue
here at how sweet the sound.
I , of course, am Minkey. I do have my own blog at
http://monkeybusiness-nannykim.blogspot.com/
But I like to invade nannykim's space. I am here for Pink Saturday. Notice my lovely earrings, necklace and skirt....all with pink.
I am quite excited since this is my frist Pink Saturday.
Zephir and I are getting ready for something special .....we will post about this soon on our own blog.
Notice , I have donned Annebelle's summery apron outfit for where I will be going soon!!
Zephir and I are awaiting some romance and fun!! Have a great pink Saturday ya'll.
I leave you with a pic of my BESTEST pink friend who sits atop me!