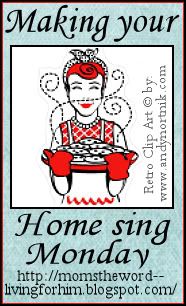 It is the day for making your home sing. Click the picture to find others participating in this!
I have a cold and am not feeling up to par! BUT I had this challenge to make my home sing or some such thing! I decided to hang some sheets and towels out in the Fresh SUNSHINE. I like the way it makes them smell.
Plus it makes me, myself and I very happy to stand in the warm sun with a light breeze a blowin!
I like having on my fish sundress and barefeet in the warm grass as I do this. This makes me sing at least!! EVEN when I have a cold. There is something about a quiet, sunny, breezey,warm morning (ha! what a sentence)and slowly hanging things one at a time on the line. It is sooooooothing.
Also some splashes of flowers make me happy--flowers in the house and outside. Have a singing monday everyone!