It is another metamorphosis Monday at Susan's. {Oh and if you have looked at Susan's post for this then you will die laughing at the contrast of the kitchen there with my kitchen. I really had to chuckle--the difference between a High kitchen and a low low lowly one!! HA! }
I don't have a dramatic change to show, but nonetheless I like it or I wouldn't be showing it. (Is that a true statement--not sure ;-) ). I wanted to warm the kitchen up a bit. My kitchen and one of the attached rooms has this dark black flooring. So to warm it up for winter I added this old beat up rug. It did warm the space
.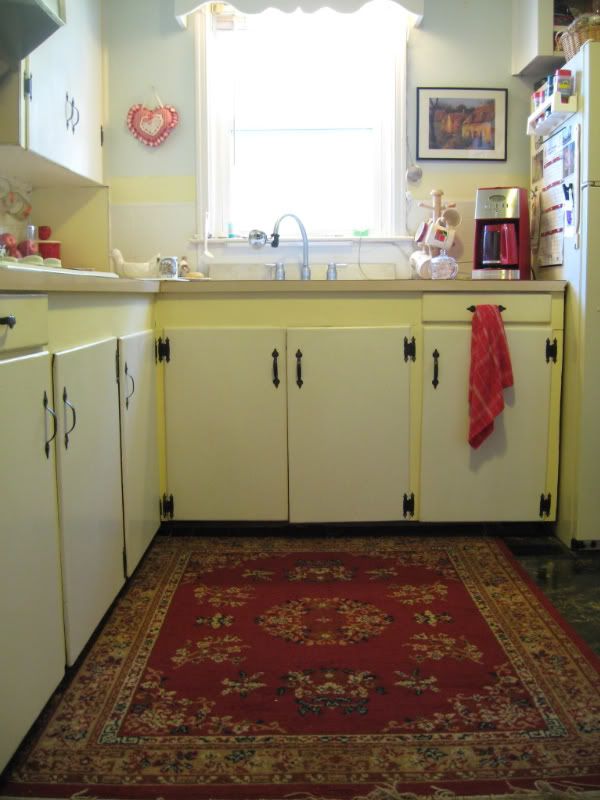 Below: I also added some apples to the container on the counter. Now there were green ones mixed in, but I confess that I have eaten those!! Don't mind the rest of the mess---I didn't take the time to clean up
! (oh and an interesting note about the apple cookie jar---It belonged to the previous owner and I didn't realize it until the antique store owner who I was purchasing it from told me!! Weird or what!!! the previous owner had died and I believe she still frequently pays us visits (justkidding)}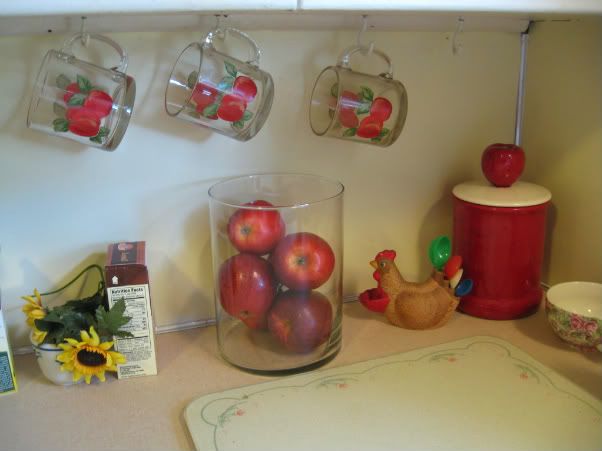 Below: here is a view from a slightly different angle. I love my red and white enamel table because you can put hot things directly on this. We also use it for the lap top and can sit here and write or look up recipes and do blogging stuff etc while we are cooking. It also makes a nice little breakfast area etc---I am amazed at how many things we use this table for!!! Underneath is storage for 3 crockpots, an onion bin, a food processor and blender, large cutting boards etc
-- AGAIN--don't mind the mess--I didn't clean it up!
Below is a slightly different view--I wanted you to see the spindles at the top (the previous owner had a thing about spindles!!!)

Now some complain about a small kitchen or a non-updated kitchen, but I have to say with complete honesty that I love this small kitchen!! It works! I can be anywhere in it in 2 steps and it makes prep and cooking and clean up a whiz! Plus It fits in with the 50's (it was updated in the 50's --the only thing is in the 2000's we had to replace the oven and the stovetop, the faucet since we couldn't find parts!!). But this was the 50's kitchen and frankly I like it because I grew up in a kitchen in the 50's. So no expensive renovations here. I don't even have a dishwasher and you know what....I love it! I find it so soothing to do them by hand. Guess I am a 50's gal ;-)